Parking Lot Striping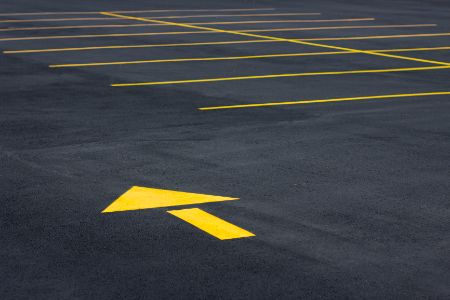 Welcome to A Clean Start Painting. As your local expert in pressure washing and parking lot striping services, we proudly serve Port St. Lucie, Jensen Beach, Palm City, Stuart, Fort Pierce, and the broader regions of St. Lucie County and Martin County.
We are committed to enhancing your parking areas' aesthetic, safety, and efficiency. Our locally operated team understands the unique needs of businesses within our community, from bustling commercial centers in Port St. Lucie to tranquil venues in Palm City.
Our comprehensive services include:
Line Striping: Delivering sharp, orderly parking lot layouts with our high-quality line striping services.
Handicap Zone Markings: Assisting businesses in maintaining ADA compliance with appropriately marked handicap-accessible spaces.
Directional Arrows and Stenciling: Offering a variety of parking lot stencils to guide drivers efficiently.
Fire Lane Markings: Providing essential fire lane markings to ensure property safety.
Re-striping Services: Revitalizing the appearance and usability of worn-out parking lots with our top-quality re-striping services.
Whether your project is large or small, new or needing a refresh, our highly skilled team, armed with state-of-the-art equipment and durable materials, delivers exceptional results on time and within budget.
We are ready to provide a free, no-obligation quote to businesses across St. Lucie County and Martin County. Our focus remains on offering superior customer service and top-notch results that withstand the test of time.
Trust A Clean Start Painting to make a great first impression with a well-striped parking lot. Contact us today for more information or to schedule a parking lot striping or any other commercial pressure washing services in your local area.
LATEST BLOG ARTICLES
Why You Should Pressure Wash Your Commercial Property

There are many benefits to pressure washing a commercial property. Pressure washing a commercial property is a great way to remove the dirt and debris that builds up over time. It also helps to eliminate any mold or mildew that might be present on the surface […]

3 Ways A Handyman Service Can Help Maintain Your Home

A handyman service is perfect for those of us who want to maintain the curb appeal of our homes or businesses without spending too much time, money, or effort. Hiring a professional to do simple maintenance jobs, like caulking holes or TV mounting, can go a […]
CALL TODAY FOR EXPERT PORT SAINT LUCIE PRESSURE WASHING & HANDYMAN SERVICES!