Playground Cleaning & Disinfectant For Your Well Maintained Port Saint Lucie Play Spaces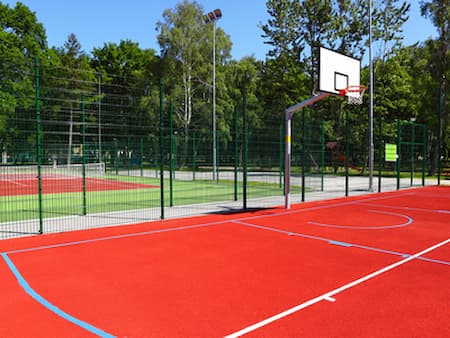 When children play in a park or playground in Port Saint Lucie, you don't want to worry about bacteria or environmental hazards. This is why our pressure washing team offers playground cleaning and disinfectant services to keep families in Port Saint Lucie safe during playtime.
Unfortunately, children are susceptible to all kinds of illnesses. They can easily catch everything from coughs and colds to head lice just by playing on the ground. And the dirtier a playground is, the more bacteria and viruses are going to be there, so why not let our experts handle playground cleaning for you! Our playground cleaning company is dedicated to providing you with the best outdoor play space disinfectant solutions in town.
Our team provides professional playground pressure washing and playground surface disinfecting for residential communities, daycares, and schools. Our advanced equipment can quickly remove even the toughest soil from climbing walls, slides, play structures, and more. Our team can also use our state-of-the-art cleaning products to safely disinfect your play area so that it's safe for kids to play in again.
To find out more about our playground pressure washing services or to schedule an appointment for cleaning or disinfection in your community, please contact us today for a free estimate on pressure washing in Port Saint Lucie that will keep your playground fun and bacteria-free.
The Importance Of Playground Cleaning
Many agree that it's vital to keep our parks and playgrounds clean. This can help reduce the risk of childhood parasitic infections, infectious diseases, and other illnesses. Hiring a professional pressure washing company for property maintenance and for playground disinfecting is the best way to ensure that it's kept clean and safe for everyone.
Eliminate disease that can be spread through direct contact and from outside surfaces with routine playground upkeep — call 772-800-6767 to schedule an appointment.
LATEST BLOG ARTICLES
Why You Should Pressure Wash Your Commercial Property

There are many benefits to pressure washing a commercial property. Pressure washing a commercial property is a great way to remove the dirt and debris that builds up over time. It also helps to eliminate any mold or mildew that might be present on the surface […]

3 Ways A Handyman Service Can Help Maintain Your Home

A handyman service is perfect for those of us who want to maintain the curb appeal of our homes or businesses without spending too much time, money, or effort. Hiring a professional to do simple maintenance jobs, like caulking holes or TV mounting, can go a […]
CALL TODAY FOR EXPERT PORT SAINT LUCIE PRESSURE WASHING & HANDYMAN SERVICES!