Fence Repair & Mending For Properties In Port Saint Lucie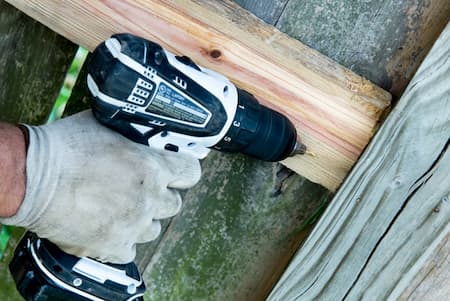 If you have a damaged fence in Port Saint Lucie, call us today to find out how we can help you with your fence repair. We provide free estimates, years of expertise in our industry, and a superior customer service experience. Work with a handyman in Port Saint Lucie that specializes in repairing all types of fencing, including wooden fences, composite posts, vinyl fences, chain link fences, vinyl privacy panels, aluminum fencing, wood lattice fences, and decorative wrought iron fencing. Call now to get a free estimate and schedule an appointment with our skilled team of handymen fence repair in Port Saint Lucie.
Fence Picket Replacement For Your Home
Our handyman team can provide a variety of fence picket replacement and fence washing services for your property. Some of the services we offer are:
Wooden Fence Repair - wooden fence repair services allow for the seamless repair of damaged fences. We make sure that the fence is repaired and maintained without any holes or gaps in the previous location. Our team of experienced technicians uses quality materials and has the ability to replace broken boards on your home or business property. We will help you maintain a new fence with no repairs over time, giving you great curb appeal. We also clean up any debris after the repair is complete.
Vinyl Fence Repair - we are the best at fence repair in Port Saint Lucie. Our technicians can repair vinyl fences for both residential and commercial properties by replacing broken or damaged panels.
Chain Link Fence Repair - chain link fence repair services are much easier to handle when compared to repairing wooden or vinyl fences. The need to buy expensive replacement materials is not necessary because we use innovative techniques to maintain your fence without having to replace it, saving you money in the end.
We offer everything from a new fence post to a complete fence picket replacement, or we will repair your existing fence. If you have questions about fence repair, don't hesitate and reach out to our handyman crew today!
LATEST BLOG ARTICLES
Why You Should Pressure Wash Your Commercial Property

There are many benefits to pressure washing a commercial property. Pressure washing a commercial property is a great way to remove the dirt and debris that builds up over time. It also helps to eliminate any mold or mildew that might be present on the surface […]

3 Ways A Handyman Service Can Help Maintain Your Home

A handyman service is perfect for those of us who want to maintain the curb appeal of our homes or businesses without spending too much time, money, or effort. Hiring a professional to do simple maintenance jobs, like caulking holes or TV mounting, can go a […]
CALL TODAY FOR EXPERT PORT SAINT LUCIE PRESSURE WASHING & HANDYMAN SERVICES!