We Make TV Mounting Easy In Port Saint Lucie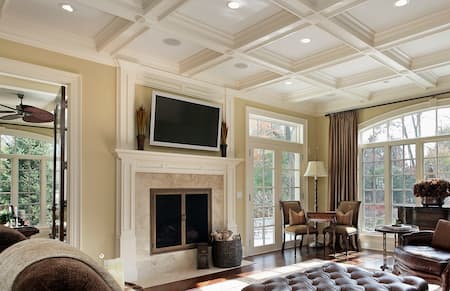 If you have a TV that needs mounting, consider hiring our handyman services in Port Saint Lucie. Our handymen are knowledgeable when it comes to TV mounting and can install your TV no matter the size. You can depend on our handyman because they have access to the best tools and equipment. If you are in a rush, our professional handymen will mount your TV quickly and safely without causing any damage to the wall where it's mounted. We can mount any TV on walls, wood studs, concrete, or brick. Television wall mount installation is easy when you work with us. Want to learn more about our TV mounting services in Port Saint Lucie? Contact us for more information on our handyman solutions today.
Hire A Professional To Mount Your TV
If you have a TV that needs mounting, it can be dangerous attempting to handle it on your own. When you hire a professional service, you can trust that your TV will be safely installed without causing harm to your walls. We are trained professionals who are concerned about the quality of our work and your satisfaction. Professional TV mounting can save you time, money, and energy and will extend its life by protecting it from harm that could occur during installation. If you have small children or pets in the house, getting a professional to mount your TV is definitely worthwhile to protect yourself and the rest of your family from safety hazards caused by improperly installing a television.
Many people believe that mounting their TV is an easy process that involves no dangers, but nothing could be farther from the truth. Doing your own TV mounting can turn out to be a recipe for disaster when a mistake is made, and wires are left exposed. Without proper safety precautions, accidents can occur. In addition, TVs can become dangerous projectiles when not adequately secured and can cause a TV to become unstable and tip over. Our handyman solutions aren't just limited to TV mounting; we also offer cabinet installation and dryer vent cleaning. Give us a call at 772-800-6767 to get an estimate on how much we charge for our services.
LATEST BLOG ARTICLES
Why You Should Pressure Wash Your Commercial Property

There are many benefits to pressure washing a commercial property. Pressure washing a commercial property is a great way to remove the dirt and debris that builds up over time. It also helps to eliminate any mold or mildew that might be present on the surface […]

3 Ways A Handyman Service Can Help Maintain Your Home

A handyman service is perfect for those of us who want to maintain the curb appeal of our homes or businesses without spending too much time, money, or effort. Hiring a professional to do simple maintenance jobs, like caulking holes or TV mounting, can go a […]
CALL TODAY FOR EXPERT PORT SAINT LUCIE PRESSURE WASHING & HANDYMAN SERVICES!