Skilled Port Saint Lucie Fence Washing Pros
Cleaning your fence of dirt and surface stains does not have to be a tough chore. Hire the top-rated Port Saint Lucie soft washing company to take care of all your fence washing. Our crew can remove ugly filth from your fence, and you can trust that the work will be done correctly the first time. We employ only the most advanced cleaning procedures to remove mildew, grime, and other particles that detract from your fence's fresh, bright appearance.
You will instantly notice a difference after having your fence cleaned with a soft washing approach. Your fence will seem gorgeous and immaculate, instantly improving the appeal of your house.
As with house washing, fence washing is critical since your fence surrounds your residential house and is often the first feature of your property that a visitor notices. If you're ready to restore the natural beauty of your fence, call one of our pros to book a fence washing appointment for your Port Saint Lucie property. With our superior soft washing services, we will keep your home looking its best.
Vinyl & Wood Fence Cleaning
If you own a property in Port Saint Lucie, you are aware that there are several telltale signs of its age. Among them is an old, deteriorated wood or vinyl fence. If you have an older fence, consider extending its life with vinyl and wood fence cleaning. Wood fence cleaning is the process of restoring the appearance of an old wooden fence. In comparison to metal fences, vinyl and wood fences may be challenging to keep clean. As a consequence, years of filth and deterioration accumulate. Fence washing removes unattractive stains, restoring the vitality to your property.
Untidy, old wood fences are unattractive. More significantly, they pose a health danger because untreated wood decays over time, particularly when exposed to harsh weather. Decaying wood creates a breeding ground for mold, fungus, and vermin and poses a concern to anybody who comes into touch with it, including visitors, children, and animals. Decaying wood also has an effect on the fence's structure and endurance. Wood fence cleaning will extend the life of your fence by decades if left untreated.
In addition to cleaning your fence, A Clean Start Pressure Washing And Handyman Service offers fence staining. Once the cleaning process is complete, we stain the fence to provide it a protective coat against the elements. This will slow down the process of decay and deterioration, and keep your fence looking new.
Latest Fence Washing Projects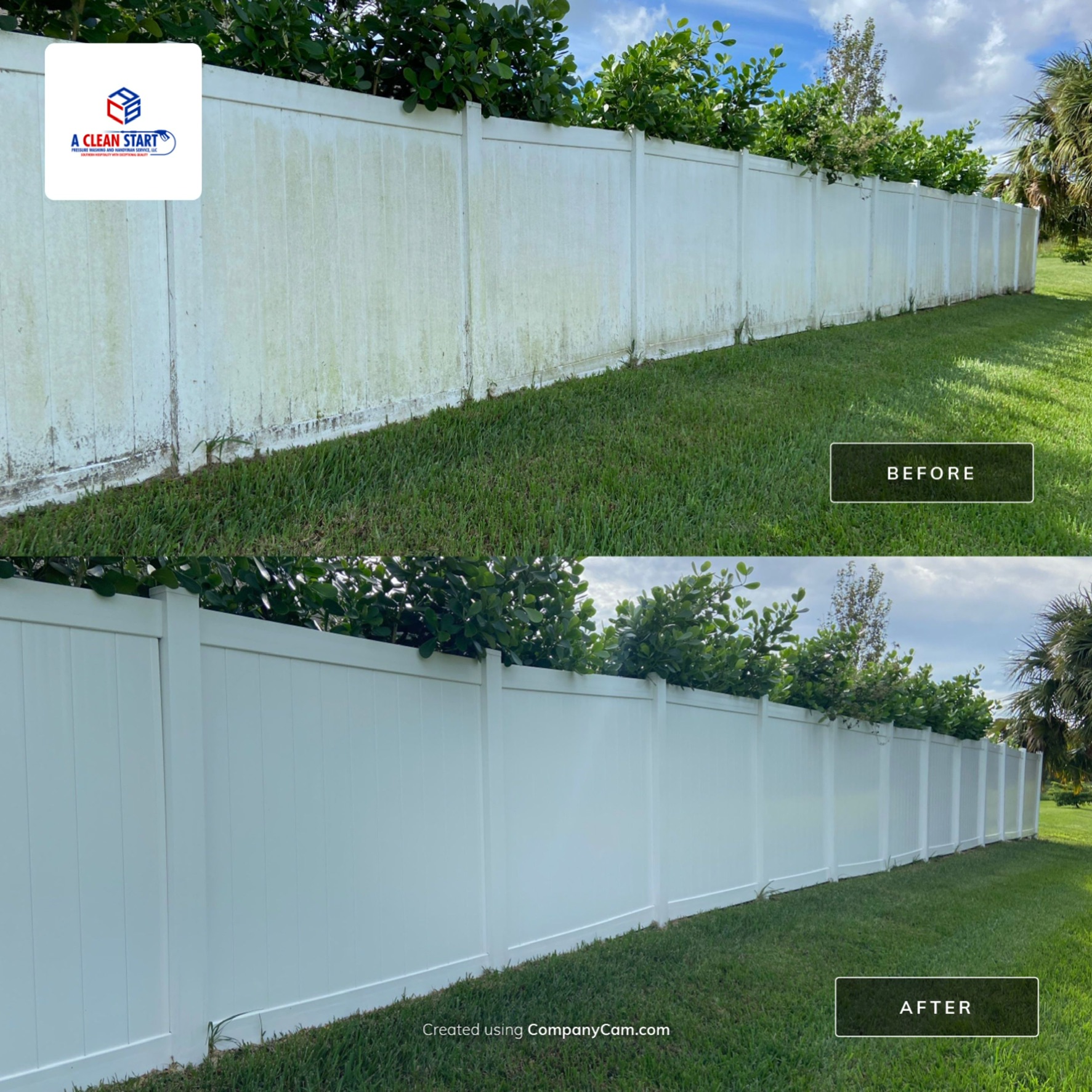 Fence Cleaning in Port Saint Lucie, FL
When you have algae, mildew, and debris this bad, you'll be out there all week cleaning this off with your pressure washer and will likely damage the vinyl or wood because of that. Call us to safely and efficiently clean your fence and get in our […]
LATEST BLOG ARTICLES
Why You Should Pressure Wash Your Commercial Property

There are many benefits to pressure washing a commercial property. Pressure washing a commercial property is a great way to remove the dirt and debris that builds up over time. It also helps to eliminate any mold or mildew that might be present on the surface […]

3 Ways A Handyman Service Can Help Maintain Your Home

A handyman service is perfect for those of us who want to maintain the curb appeal of our homes or businesses without spending too much time, money, or effort. Hiring a professional to do simple maintenance jobs, like caulking holes or TV mounting, can go a […]
CALL TODAY FOR EXPERT PORT SAINT LUCIE PRESSURE WASHING & HANDYMAN SERVICES!