Pro Paver & Sidewalk Cleaning For Port Saint Lucie Walkways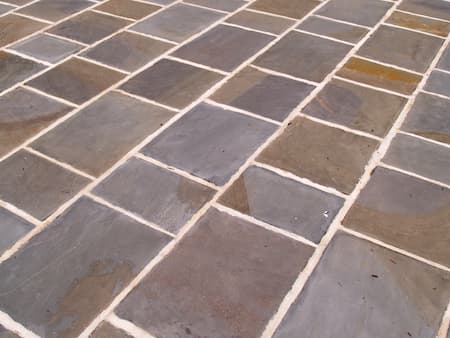 Call our pressure washing experts immediately if you need paver and sidewalk cleaning for your house in Port Saint Lucie. Clean pavers and walkways offer a distinct richness of beauty to your home and may last a lifetime if properly maintained. They are dynamic surfaces that perform two distinct functions. On the one hand, they function as ornamental elements, improving the appearance of your property while also raising its market worth. They can also endure both pedestrian and vehicular activity, so they must always be in excellent shape.
Hiring paver and sidewalk cleaning services like ours at A Clean Start Pressure Washing And Handyman Service is one of the greatest methods to keep them in good condition. Our staff knows that pavers and sidewalks provide a blend of practicality and aesthetic appeal to your outdoor property. This is why, while cleaning home exterior surfaces, we endeavor to employ some of the most cutting-edge pressure washing methods. We provide free paver and sidewalk cleaning quotes for Port Saint Lucie locals, so give us a call now. You may also learn more about our paver and stone sealing service, which helps to the long-term appearance of your pavers.
Paver Cleaning
When you see stains collecting on your pavers, call us for professional pressure washing in Port Saint Lucie. If you're unsure if your pavers need cleaning, give us a call; our consultation service is completely free.
Because pavers are unique from standard sidewalks and need specialized cleaning solutions, we utilize sophisticated pressure washing techniques designed specifically for pavers. Pavers are likely the most visually and functionally important structural parts of your home, and they need comprehensive cleaning by expert personnel. Kindly contact us if you want skilled paver cleaning. We are always there to assist you.
Walkway Pressure Washing
A skilled pressure washing business can restore your sidewalk to a gleaming condition that not only improves its appearance but also contributes to the health of your house and property. A clean sidewalk is a safe walkway, which means you and your family will be protected from the hazards of slipping and falling. Additionally, sidewalk cleaning improves the attractiveness of your property. In short, if your house has a well-kept walkway, your curb appeal will immediately improve!
Our pressure washing services are the most effective method for cleaning and disinfecting your residential sidewalk. Contact the experts at A Clean Start Pressure Washing And Handyman Service today to get started on your walkway pressure washing job! To discover more about what our cleaning team can accomplish for you, call us at 772-800-6767 or fill out our online form.
Latest Paver Cleaning Projects
LATEST BLOG ARTICLES
Why You Should Pressure Wash Your Commercial Property

There are many benefits to pressure washing a commercial property. Pressure washing a commercial property is a great way to remove the dirt and debris that builds up over time. It also helps to eliminate any mold or mildew that might be present on the surface […]

3 Ways A Handyman Service Can Help Maintain Your Home

A handyman service is perfect for those of us who want to maintain the curb appeal of our homes or businesses without spending too much time, money, or effort. Hiring a professional to do simple maintenance jobs, like caulking holes or TV mounting, can go a […]
CALL TODAY FOR EXPERT PORT SAINT LUCIE PRESSURE WASHING & HANDYMAN SERVICES!