Premier Paver Cleaning Company Serving Tradition Port St. Lucie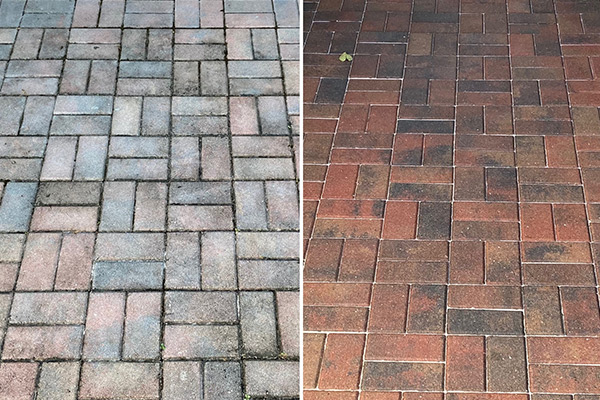 Tradition is the Treasure Coast at its finest! An expansive master-planned community, Tradition uniquely combines a classic Florida feel with updated, modern work-life-play spaces and a curated entertainment calendar. You should be able to enjoy Tradition while we help to make sure it looks its best with our paver services.
When it comes to high-quality paver cleaning and maintenance services here in the Tradition Port St. Lucie area, A Clean Start Pressure Washing And Handyman Service is the name you can trust. As the premier pressure washing pros serving Tradition, we offer a wide variety of paver care services, including paver cleaning, paver sealing, paver repair, and paver resanding.
We do all this to ensure that your paver walkways, driveways, patios, and outdoor spaces look their best with no worry or chores for you.
Are you looking for a professional Tradition Port St. Lucie paver care company that can help your property's pavers look great for years to come? Give our team a call today and let us review the quality professional paver care services for your home and business may need.
Here at A Clean Start Pressure Washing And Handyman Service, we understand the importance of keeping pavers around your Tradition Port St. Lucie property clean in order to protect your property's value and overall appearance, and we want to do everything in our power to help you with that goal.
Paver Cleaning For Well-Maintained Tradition Port St. Lucie Hardscapes
Paver cleaning services shouldn't be completed by just any company with a pressure washer. You need an experienced professional who knows how to balance high-pressure cleaning tactics with the care necessary to not unsettle your pavers or wash out the polymeric paver sand, which can cause loose (and, therefore, unsafe) pavers.
Our paver washing professionals know how to make your pavers look their best without compromising their structure and stability.
Paver Sealing In Tradition Port St. Lucie
Once you have your pavers cleaned, having them sealed should always be the next step. Paver sealing, when done promptly after installation or cleaning, can help to prevent penetration of oil, grease, mildew, and other contaminants, helping you extend the lifespan of your pavers and reducing wear caused by the elements over time. This simple step can help keep your paver driveway, patio, and walkways looking new and protected from wear year after year so you can enjoy all of the beauty and comfort these outdoor living areas offer.
Paver Repair & Re-Sanding For Properly Set Tradition Port St. Lucie
The combination of water, foot or vehicle traffic, and wear over time may likely damage and unsettle your pavers. When brick paving stones shift, they can chip and crack. Loose stones are also unsafe for foot traffic or driving vehicles.
When this happens to your paver driveways and walkways, you need professional paver repairs and fresh polymeric sand to remedy your paver problems. When you call an expert like A Clean Start Pressure Washing And Handyman Service to handle your paver repairs, your paver repairs can be seamlessly completed, making it look as fresh and nice as the day the pavers were first installed.
There are currently no reviews or testimonials; check back soon!
LATEST BLOG ARTICLES
Why You Should Pressure Wash Your Commercial Property

There are many benefits to pressure washing a commercial property. Pressure washing a commercial property is a great way to remove the dirt and debris that builds up over time. It also helps to eliminate any mold or mildew that might be present on the surface […]

3 Ways A Handyman Service Can Help Maintain Your Home

A handyman service is perfect for those of us who want to maintain the curb appeal of our homes or businesses without spending too much time, money, or effort. Hiring a professional to do simple maintenance jobs, like caulking holes or TV mounting, can go a […]
CALL TODAY FOR EXPERT PORT SAINT LUCIE PRESSURE WASHING & HANDYMAN SERVICES!