HOA Cleaning in Port St. Lucie, FL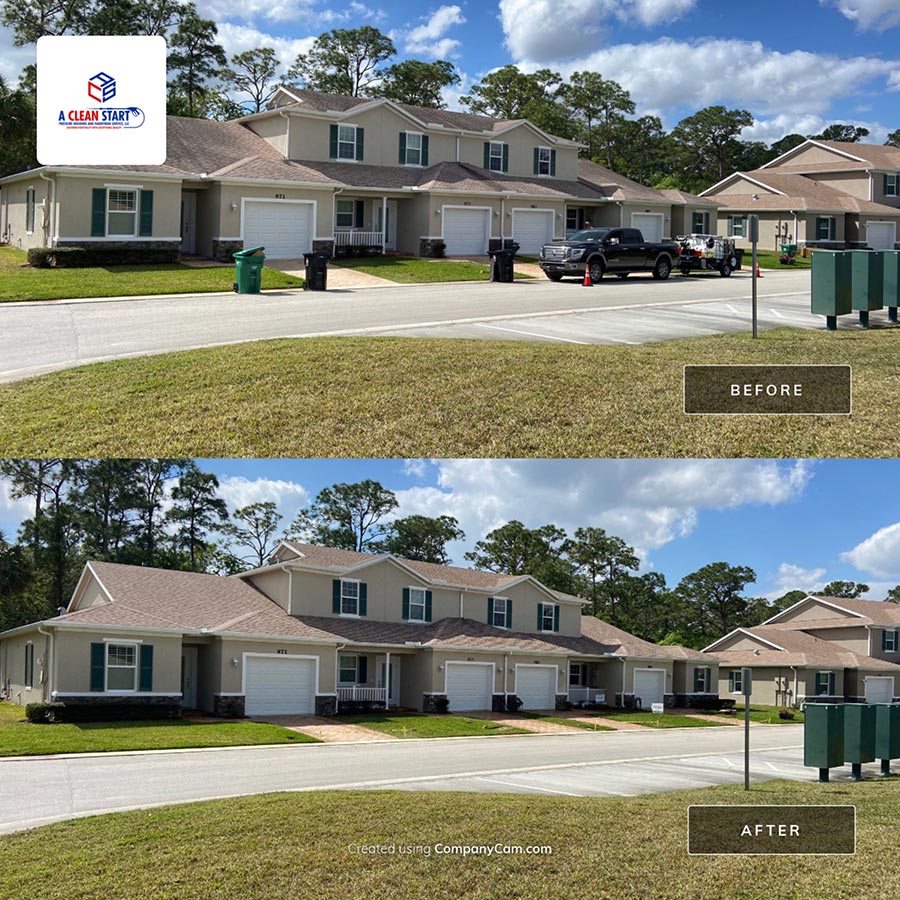 A Clean Start Pressure Washing and Handyman Service, LLC soft washed multiple roofs for River Place in Port St. Lucie, FL.
Soft washing is a process that involves using a low-pressure nozzle to apply a cleaning solution to the roof's surface.
The solution is left to sit for a few minutes to allow it to break down dirt and grime, after which it is rinsed off using a low-pressure nozzle.
A Clean Start Pressure Washing and Handyman Service, LLC is Plant and Property Protection Certified, indicating that they take special care to protect the surrounding vegetation and property during the cleaning process.
It's important to have a roof cleaning service regularly to remove dirt, debris, and other contaminants that can accumulate and cause damage over time. By having the roof cleaned, it can help to prolong its life and prevent costly repairs or even a full roof replacement in the future. Additionally, regular cleaning can also improve the overall appearance of the roof and the property as a whole.
If you need your roof cleaned or are interested in any of our other pressure washing services, contact us today.
HOA Cleaning in Port St. Lucie, FL Project Gallery
LATEST BLOG ARTICLES
Why You Should Pressure Wash Your Commercial Property

There are many benefits to pressure washing a commercial property. Pressure washing a commercial property is a great way to remove the dirt and debris that builds up over time. It also helps to eliminate any mold or mildew that might be present on the surface […]

3 Ways A Handyman Service Can Help Maintain Your Home

A handyman service is perfect for those of us who want to maintain the curb appeal of our homes or businesses without spending too much time, money, or effort. Hiring a professional to do simple maintenance jobs, like caulking holes or TV mounting, can go a […]
CALL TODAY FOR EXPERT PORT SAINT LUCIE PRESSURE WASHING & HANDYMAN SERVICES!